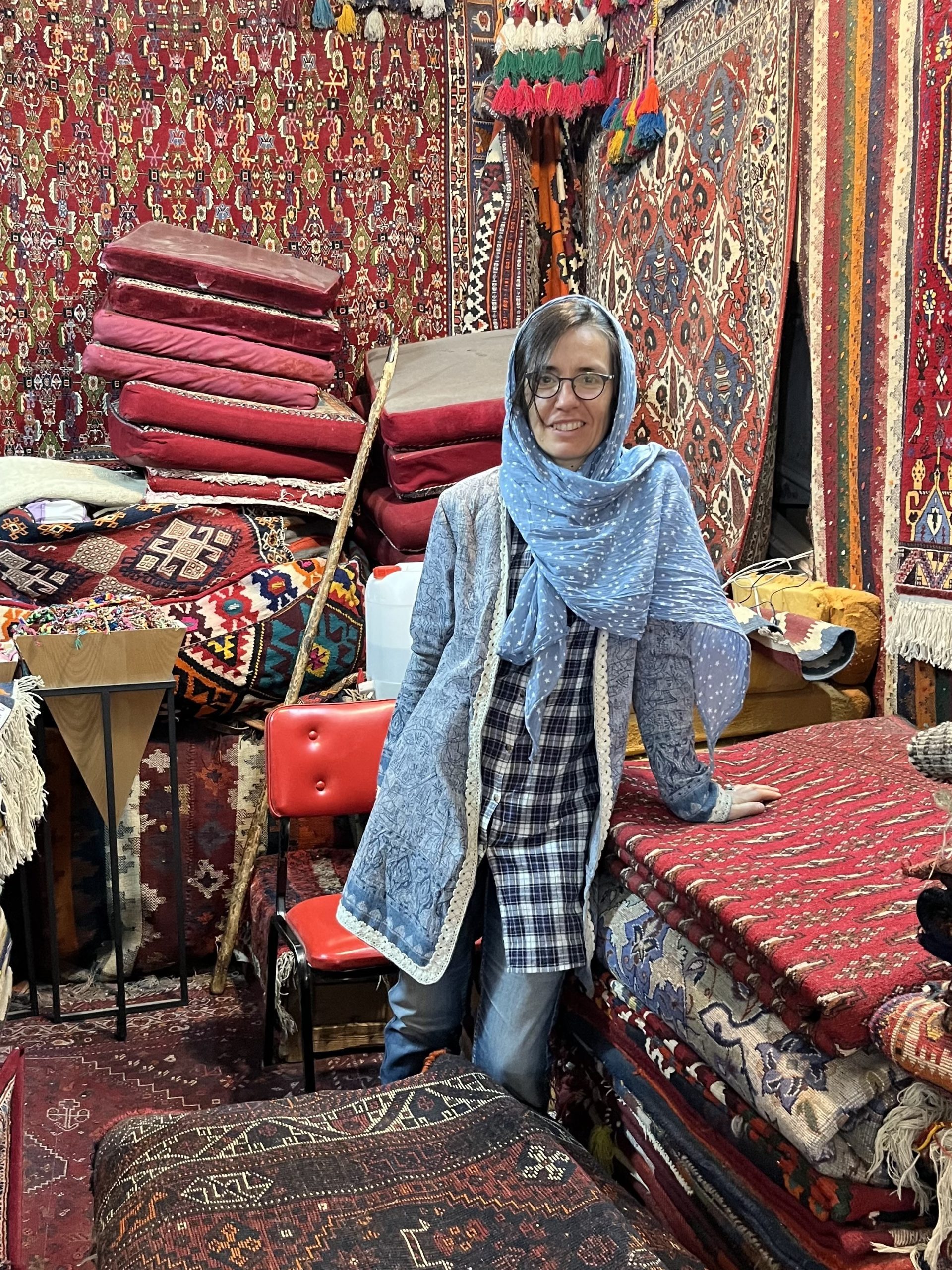 Looking forward to leting you know about the exciting trip through southern Iran in search of antique and contemporary rugs and kilims that ended in Turkey. Due to the situation in the Middle East I was about to cancel the trip, but those of you who know me already know that… nothing stops me in my search for that unique and special kilim!
Finally I decided to continue with the trip and boarded the flight that would take me first to Shiraz and the surrounding towns and then to Isfahan. It has been an exciting few days in search of that different and unique tribal rug or kilim. I am also passionate about Persian gastronomy, architecture, medicine and archeology and whenever I go to Iran I try to fully immerse myself in its culture.
Shiraz is a city located in south-central Iran known for its literary history and numerous gardens. The marble tomb of Hafez, which honors the famous poet, is located in his own garden. To the east, the Saadi Mausoleum houses the 13th-century writer's mosaic tomb and an underground pool. Shiraz is a good base for visiting this fascinating region.
During my stay in southern Iran, I visited several times a small village on the outskirts of Shiraz where nomads from the Qashqai tribe have been settling. Although they have stopped being nomadic and lead a semi-sedentary life, the men continue to carry out pastoral activities and have kept their sheep and goats. Qashqai women continue to weave carpets with their ancestral patterns. They weave some of these rugs in the patios of their houses when the weather permits, and when it is too cold or hot, they weave them inside their homes. I have acquired many of these rugs that these women wove and you will be able to enjoy them in Nómada shortly.
A few days later, after visiting Pasargad, (the first capital of the Achaemenid Empire under Cyrus the Great and which began its construction between 559-530 BC and which is also where his tomb is located), we were returning along the road, and in Some fields I glimpsed some nomadic tents. We stopped by car and approached a camp of the Basseri tribe. The migratory zone of this tribe is around Shiraz. They are one of the five tribes of the larger Khamseh confederation. The "tent" is the basic unit of social organization among the Basseri. All tents have a recognized chief who looks after the formal officials of the tribe, villagers and other outsiders. The Basseri economy comes mainly from sheep and goats.
After finishing shopping for rugs and kilims, I headed to the splendid city of Isfahan. I have already been to this stunning city about 4 or 5 times, but every time I arrive, my heart pounds. As the Persian proverb "Esfahan nesf-e jahan" says, "Isfahan is half the world." Never has a proverb been so true! In the huge Naghsh-i Jahan Square is the 17th-century Imam (Sah's) Mosque, whose minarets and dome are covered in mosaics and calligraphy. The Ali Qapu Palace, built for Shah Abbas and completed in the late 16th century, has a music room and a gallery overlooking the square's fountains. Sheikh Lotf Allah Mosque is known for its intricate tile work.
From Isfahan I took a flight to Turkey where I have also bought a lot of vintage and antique kilims. As you always ask me for very large sizes and they are difficult to find in tribal and nomadic pieces, on this trip I have made a special effort to look for them. Ah! and lest I forget, I also visited the Afghan refugee family we have been working with for over 25 years and bought a lot of vintage and contemporary jewelry from them.